Get Started
Experience a better way to see the doctor.
Get Started
Getting started is simple.
Call 308-251-7474 or email info@forwardfamilyhealthcare.com to set up your first medical appointment. We will review and sign the membership agreement together.
*Your monthly billing starts the day you sign the membership agreement.
Questions? Please contact us.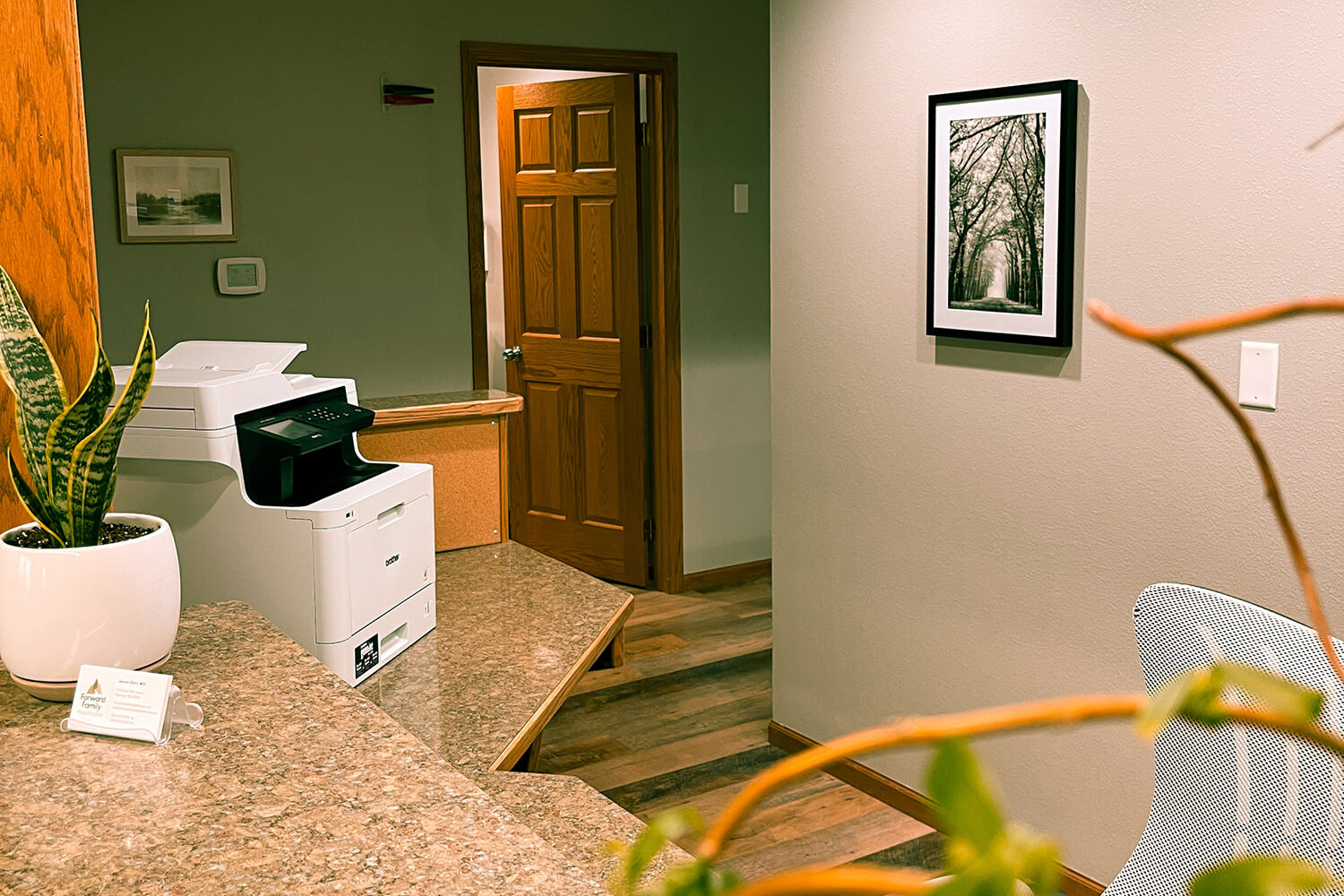 Need more information?
Direct Primary Care is a unique model of healthcare delivery, and we're happy to discuss any questions you may have. We offer a complimentary meet and greet visit which is an excellent way to connect with Dr. Derr and her staff. We look forward to meeting you!
*Medical care will not be provided during meet and greet visits.
Frequently Asked Questions
If I join Family Forward Healthcare, do I still need insurance?
Yes. The Forward Family Healthcare membership is NOT an insurance plan. Your membership fee covers primary care services but doesn't cover major surgery or hospitalizations. It also doesn't cover care required from other physicians and medical professionals.
In general, direct primary care (DPC) memberships can pair well with high deductible health plans or medical cost sharing plans. We recommend you consult an insurance broker to decide what plan makes the most sense for you
Do you accept insurance?
No. We do not bill your insurance company for the services we provide. And we are thankful not to! As a member of Forward Family Healthcare, you have access to our discounted labs/testing options, as well as medications from our in-house pharmacy. You will never have hidden or surprise fees - anything outside of your membership fee will be discussed prior to the procedure or test performed.
However, if you prefer, we are able to order labs, testing, imaging, referrals, and supplies through your insurance company. You can also choose any pharmacy that provides you with the best options as well. There is tremendous flexibility with our transparent model of care.
Are your services eligible for HSA or FSA reimbursement?
Direct Primary Care may qualify as a reimbursable expense through your Health Savings Account (HSA) and may also qualify under the Affordable Care Act. Due to regulatory fluctuations, please contact the administrator of your HSA directly to determine if your membership fee with Forward Family Healthcare is reimbursable.
Is this concierge medicine?
No. Direct primary care (DPC) is different from concierge medicine. However, in concept they are quite similar in that they both work to provide a more personalized healthcare approach with enhanced access for a smaller group of patients.
Concierge practices typically charge an annual or monthly retainer for their services, as well as billing a patient's insurance company directly. The average annual retainer fee is between $1200-1500 plus additional insurance-driven fees required per visit, labs, tests, or procedures. DPC practices typically have membership fees that are $100 per month and usually do not bill insurance for their services.
What's included with my monthly membership?
If I don't see the doctor often, do I really need to join?
Yes! It's important to have a primary care physician you can trust. Yearly visits are excellent opportunities to stay up to date on your health and wellness, with recommended evaluations and preventive care, personalized for you! There may also be times you are ill and need to seek care unexpectedly - at home or on the road - and having direct access to your own doctor will prove invaluable.
A unique benefit with direct primary care, is that you maintain a relationship with the same doctor. So even if you don't come in frequently, your doctor will be able to give you the best possible care based upon your individual needs.
I have Medicare, can I sign up?
Absolutely! We believe our services are highly valuable to medicare-eligible people. Our model allows us more time to listen to you and to coordinate your care with other members of your healthcare team, as well as family and other caregivers. If you are in a care facility, home visits are also included in our membership.
Do you accept patients with pre-existing conditions?
Yes. We accept patients without any limits on pre-existing conditions.
What if I decide to cancel?
If you decide to cancel, it's easy, just let us know. There is no financial penalty to cancel enrollment. However, any re-enrollment will be subject to a fee of $200.00.
I own a small business. Are there options for providing healthcare for my employees?
Absolutely! We look forward to partnering with you to bring our quality services to your employees. Please contact us to learn more.
Do you offer telehealth services?
Yes! We value accessibility and patient convenience, all while maintaining quality standards of care. We will use our telehealth services any time it may help save a trip to the office.
What about specialty care?
At Forward Family Healthcare, we work with a variety of specialists and will communicate carefully, effectively, and consistently to bring you the most complete care possible.
What if I need medical attention while I'm away from home?
Many illnesses can be diagnosed and treated with a simple conversation or virtual visit. Your access doesn't change when you leave town! We will also help you locate a nearby pharmacy or other services if needed.